---
November 26, 2017 |
By William S. Skovranko Memorial Home | Posted in: William S. Skovranko Memorial Home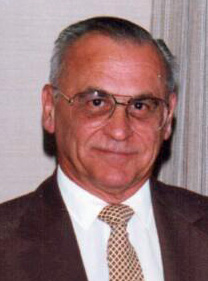 John Vojnovich, 92, of North Huntingdon Twp. passed away at his home Saturday, November 25, 2017.
He was born March 23, 1925 in Duquesne to the late Eli and Mary Stipanovich Vojnovich.
He is survived by his wife of 65 years, Dolores Richardson Vojnovich. Also surviving are a sister, Helen Vojnovich Medic, and Donald (Milena) Vojnovich of N. Huntingdon, Mark and Eli Vojnovich of Duquesne, William Vojnovich of Moon Twp., and sister-in-law, Marion Richardson Andresky, of Cecil. Many nephews and nieces also survive.
Mr. Vojnovich was graduated from Duquesne Schools in 1945. From California University of Pennsylvania, where he majored in Industrial Arts and Math, he earned a bachelor's degree in education in 1951 and a master's degree in education in 1972.
Mr. Vojnovich was a retired Industrial Arts and Math teacher in the Duquesne School District.
Read More